London is widely known as one of the most expensive cities in the world regarding accommodation, commuting and general living and travel expenses. Therefore finding accommodation at an affordable rate can be difficult for any corporate traveller. There are distinctive hotels around London that provide first class business facilities in convenient and accessible locations. You just have to do some research to find the most suitable. Here are 5 of the best valued hotels in London.
The Hoxton Hotel
The Hoxton is an award winning hotel that features practicality and convenience for business travel. Their slogan promises 'luxury where it matters, budget where it counts,' thus incorporating more luxurious style rooms and budget facilities to accommodate everyone's needs. The hotel features 208 stylish rooms, a restaurant and 6 conference rooms, providing amenities to suit the ideal business traveller. Conveniently located with access to numerous transport facilities, The Hoxton is known for its first class, low cost and up-market reputation.
London Victoria Premier Inn
Conveniently located within a 15 minute tube ride from central London, London Victoria Premier Inn is an ideal destination to reside whilst away on business travel. Stylish facilities incorporate a professional presence that is highly sought after in busy London. The comfortable amenities ensure a relaxing stay whilst in transit of travel or busy business ventures. Be sure to unwind at the integrated restaurant servicing a variety of affordable, traditional dishes.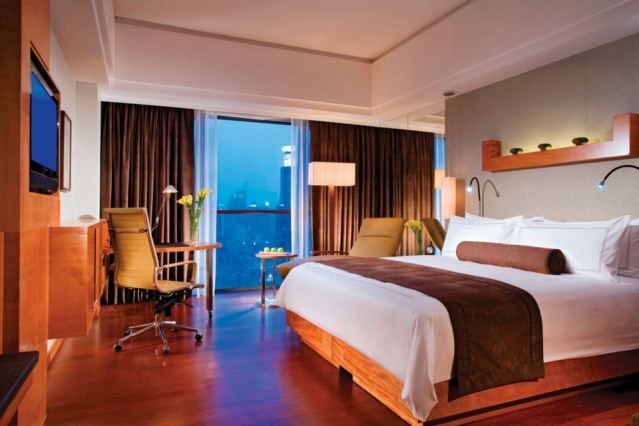 Lancaster Gate Hotel
Located minutes from Hyde Park, Lancaster Gate Hotel boasts access to a variety of transport links easily accessible to anywhere in London. Featuring 188 modern bedrooms, this hotel provides amenities to suit the collective to the most eccentric type of guest. Office amenities equipped in every room to allow extra preparation for the following morning sales pitch or relax in the Serpentine Bar and enjoy an array of cocktails and unique dining between business meetings.
Hotel Ibis London City
Stylish, modern and sophisticated, Hotel Ibis London City will surely cater your individual business needs. Located in the heart of London City, have no troubles accessing any mode of transport for early arrival of any scheduled meetings or appointments. Featuring 348 guest rooms from an array of classy options, feel free to access the trendy bar and restaurant whilst accessing Wi-Fi on your laptop to continue business activities or catch up with family at home. A modern, yet luxurious presence that ensures a professional and memorable stay.
City Hotel London
City London Hotel promises to be affordable for every budget. That's an appealing start when researching hotels to stay in prior to commencing travel. Only walking distance to the tube which allows for convenient travel anywhere in London city. Catered to suit all business related needs, City Hotel comes highly recommended from numerous sources which promises a relaxing stay on your successful business trip. The hotel offers packages for bed and breakfasts to allow convenience whilst you travel.
The variety of affordable, appropriate, yet stylish and professional hotels listed above will ensure your business travel needs will be met and convenience most assured to make your business travels a memorable and successful adventure.